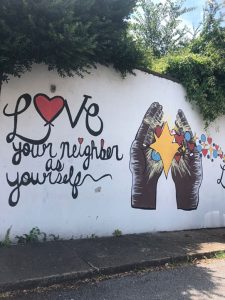 Mural message by Youth of UMNCM
NEW SOUL FORCE INITIATIVE
In response to the scourge of deadly violence that is now taking a grim toll in Shelby County and around the nation, UMNCM is launching a new effort, named Soul Force Initiative. It calls for cooperation among all the religious bodies, non-profit agencies, local community groups and law enforcement. Our advisor, the Rev. Dr. James Lawson, Jr., teaches that each neighborhood can become a "Zone of Shalom" where Love and Peace prevail.
We are not proceeding alone, but look to collaborate with any and all groups sincerely working to stem the horrible tide of killing in Shelby County. Even more urgency has come on the heels of our loss of District Superintendent Autura Eason-Williams, on July 18, 2022.
To learn more and volunteer or donate, call Rev. Matheny at 901-428-4633 or Iletha Washington at Miriam Center, 901-323-4993.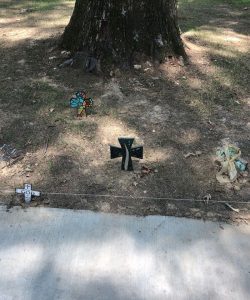 Crosses beside spot where Rev. Dr. Autura Eason-Williams was murdered
UMNCM MISSION
We are called to be caring Neighbors to people in need in Memphis and Shelby County, with special emphasis on Early Childhood Education and Hunger Ministry.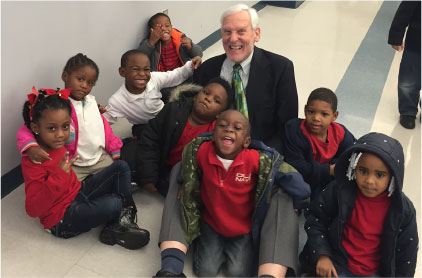 UMNCM's Mark Matheny with Miriam Center students.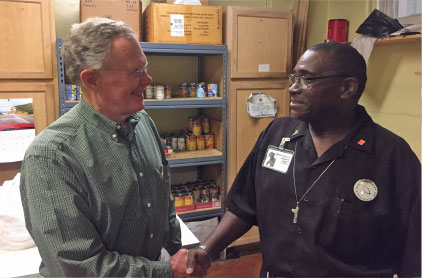 Visit with Captain of Binghampton UM Mission Director Michael Anderson, here at the Binghampton UM Mission's Food Pantry.

Our UMNCM Theme Song
(Tune: Swing Low, Sweet Chariot)
Chorus:
Neighbors, we strive to be
Neighbors to the people in need;
Caring as Jesus taught us;
Neighbors to the people in need!
V. 1:
Oh, the needs are great and the hours are long,
Neighbors to the people in need;
By Faith, the Lord will keep us strong,
Sharing Love in word and deed!
(Chorus)
V. 2:
Oh, we're sometimes up and we're sometimes down;
Neighbors to the people in need;
With help from you, we're Kingdom bound,
Sharing Love in word and deed!
(Chorus)
NEIGHBORS! TO THE PEOPLE! IN NEED!